Don't Settle for an Attorney Who Isn't Willing to Fight! 
It is impossible to prepare for the unexpected. While driving through Denton, our client was rear-ended while maintaining the speed of traffic. After the accident, our client dismissed her symptoms of trauma as simply being sore and fatigued. Once a few days had passed and those muscle pains only worsened, she felt it was important to seek professional and legal help. Our office was immediately able to help her with chiropractic and physical therapy care.
Within only five months of hiring Chandler | Ross Law Firm, we obtained a settlement offer from the insurance company SEVEN times higher than what they first purported to be their "best offer". Not only were all of our client's medical expenses covered, but she was also able to receive significant compensation for the emotional damage this accident had caused. We worked fast and efficiently, which allowed our client the opportunity to quickly move past this difficult time in her life.  It also put the insurance company on notice that we did not intend to play their games.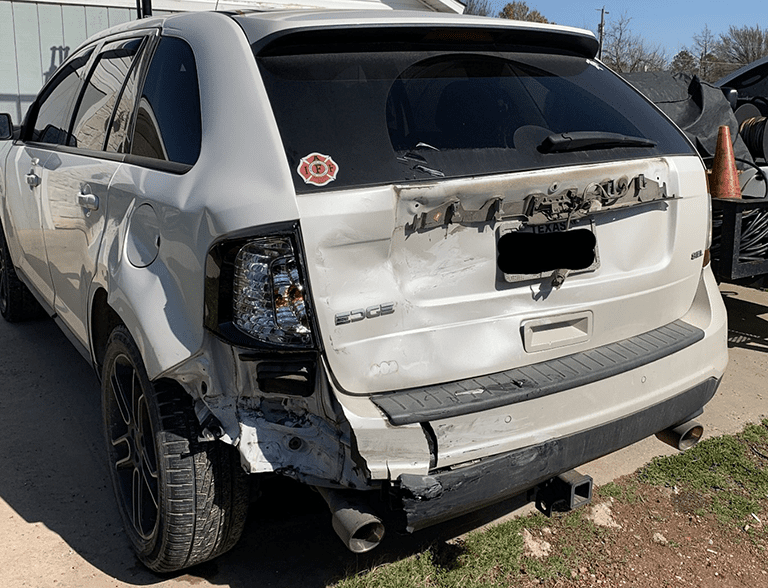 Actual picture of our client's car after the accident
Liability was clear in the case. Our client was an innocent driver and required significant medical treatment. Although insurance companies will argue otherwise, it is very common in motor vehicle accidents for injuries to develop and/or worsen over time. When you get in an accident it is important to closely monitor your symptoms and listen to your body.  Speak to an attorney who can direct you to the proper medical professionals, and provide you with the treatment you need.  Usually, we can do this at no charge to the client.  So people without pockets full of money, or extremely expensive insurance, can still afford to get the quality medical care they need and deserve.
The accident attorneys at Chandler | Ross, PLLC are here to help you. With offices in Denton, Dallas, Southlake, Keller and Fort Worth, Texas, we are well positioned to help protect you.  Don't wait, and don't compromise – contact us today to see how we can help.  The consultation is free, and you owe nothing unless we recover for you.  Contact us  now at (940)-800-2500 or Support@ChandlerRossLaw.com to schedule your free case evaluation and consultation.